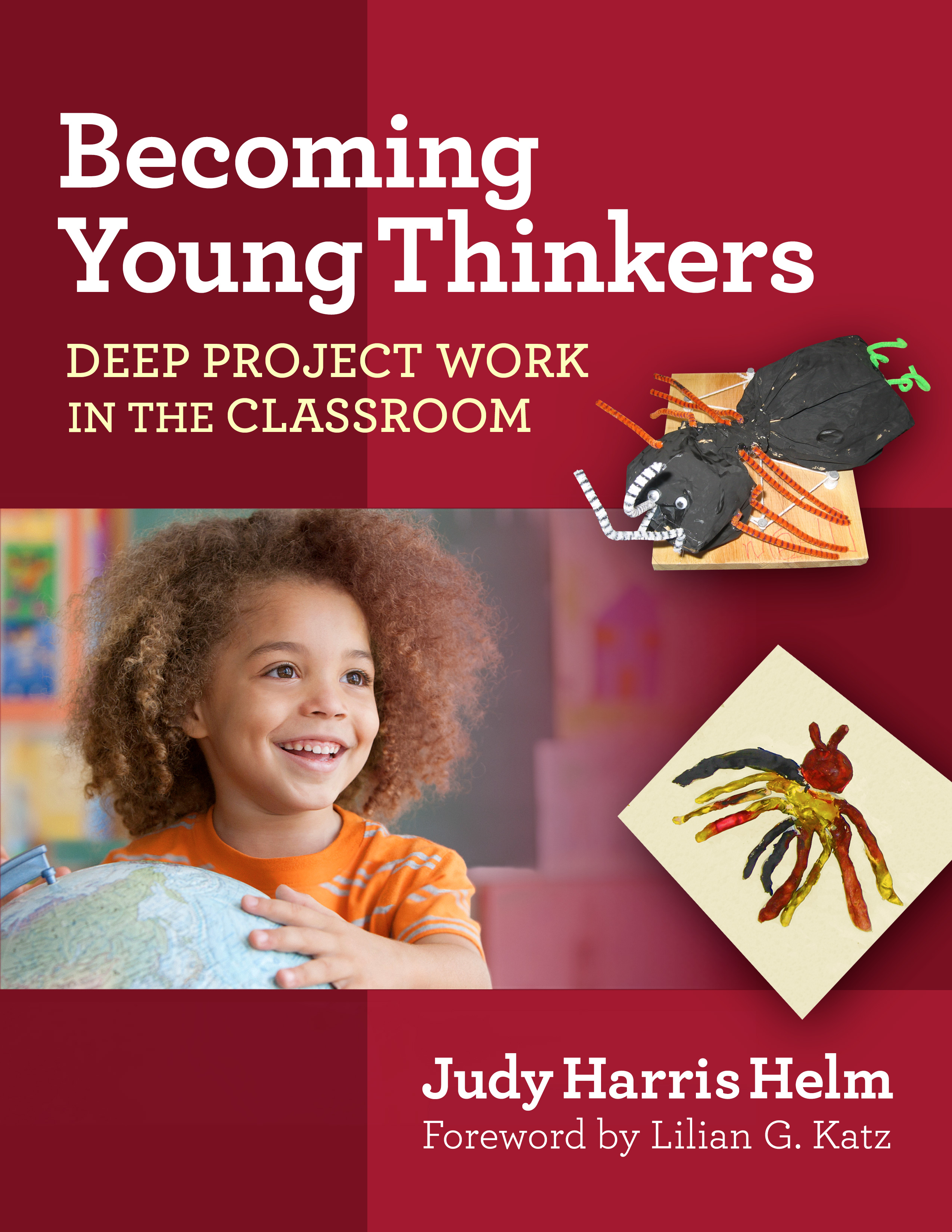 Becoming Young Thinkers: Deep Project Work in the Classroom
"Helm emphasizes the concept of 'deep' project work. Throughout the book, the examples and suggestions she provides make clear the important distinctions between the deep investigations involved in project work versus the fairly common superficial theme activities too often seen in preschool and elementary school classes." —From the Foreword by LilianG. Katz, past president of the National Association for the Education of Young Children(NAEYC) and professor emerita at the University of Illinois, Urbana-Champaign
Becoming Young Thinkers: Deep Project Work in the Classroom builds on the bestselling Young Investigators: The Project Approach in the Early Years, 2nd edition, to show teachers how to build intellectual capacity by incorporating deep investigations in the formative early years (preschool through early primary grades). The book begins with research and
instructional guidelines for all learning experiences from the new field of Mind, Brain, and Education Science, and then connects it to the rich foundation of the project approach. Practical and specific strategies for deepening project work are provided including
how to select meaningful topics,
plan for projects,
integrate standards (including the Common Core State Standards),
support children's questioning,
interact and ask supportive questions,
create provocations to promote engagement and deep thinking, and
help children represent or render their ideas.
Deep project work is defined through vivid examples from real classrooms. The book shows not only why curriculum in early years needs to focus on building intellectual capacity but also how to make that happen. You can order Becoming Young Thinkers from Teachers College Press or Amazon.com .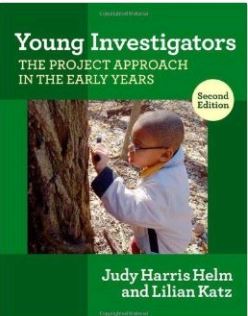 Young Investigators: The Project Approach in the Early Years
This bestselling book has been completely updated and expanded to help teachers use the project approach in child care centers, in preschools, and in kindergarten, 1st grade, and early childhood special education classrooms. For those new to using projects, the book introduces the approach and provides step-by-step guidance for conducting meaningful projects. Experienced teachers will find the teacher interviews, children's work, photographs (including full color), and teacher journal entries used to document the project process in actual classrooms very useful.
This popular, easy-to-use resource has been expanded to include these new features:
•Explicit instructions and examples for incorporating standards into the topic selection and planning process.
•A variety of nature experiences, with examples that show how project work is an excellent way to connect children to the natural world.
•An update of the use of technology for both documentation and investigations, including use of the Web as well as and video and digital cameras.
•More toddler projects that reflect our increased knowledge from recent mind/brain research about toddler understanding and learning.
•A study guide for pre- and in-service teachers.
Judy Harris Helm heads her own educational consulting and training company, Best Practices, Inc., in Brimfield, Illinois, and is the author of numerous books, including Windows on Learning, The Power of Projects, and Teaching Your Child to Love Learning.Lilian G. Katz is past president of the National Association for the Education of Young Children (NAEYC) and professor emerita at the University of Illinois, Urbana-Champaign.
Praise for the First Edition
"Everything you could possibly need to start a project is covered in this book, so start investigating!"
—Association for Childhood Education International
"A readable and extremely valuable book…includes a planning journal with step-by-step guidance for doing a first project with young children."
—Child Care Plus
"Along with tips on how to get started and successfully carry out this approach, readers will find methodologies for maintaining curricular standards and utilizing technology."
—ENC Focus
"This practical book is full of good ideas for teachers developing investigative projects with the youngest children. A powerful resource, it combines sound educational theory with many ways to support and document learning."
—Sylvia C. Chard, University of Alberta, Canada
"In this beautifully written book, the reader takes a journey, discovering the many answers to the why, what, and how questions about the project approach. In addition to providing the essential how-to guidebook for projects, Helm and Katz address today's burning issues—standards, evaluation, special populations, and relation to the larger curriculum."
—Sue Bredekamp, Council for Professional Recognition
This book is available in Chinese, Greek, Korean and Polish translations. Click here to request information on how to obtain these translations





The Power of Projects: Meeting Contemporary Challenges in Early Childhood Classrooms-Strategies and Solutions
Judy Harris Helm and Sallee Beneke, Editors
This book identifies five challenges facing teachers in prekindergarten, kindergarten and primary school: reducing the effects of poverty, moving children towards literacy, supporting second language learners, meeting special needs, and effectively integrating standards. Each challenge has a chapter with an overview of the challenge, specific stategies for using project work to meet that challenge, and a complete description of a project in a classroom where teachers are facing that challenge. The projects are described through pictures and teacher reflections. A chapter on documentation and assessment shows how to plan projects."Those committed to excellence in the teaching of young children will find the specific methods needed in this work. The teacher practices that increase achievement are all here." Martin Haberman, author of Star Teachers of Children in Poverty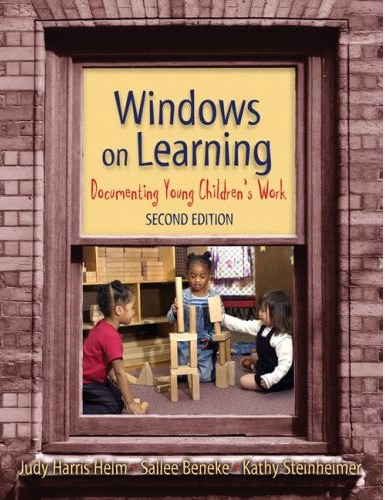 Windows on Learning: Documenting Children's Work
Judy Harris Helm, Sallee Beneke, and Kathy Steinmeimer This second edition presents an approach for thinking and communicating about documentation. Documentation was studied in a number of early childhood programs.The result is a framework, collection system, and display method that works in U.S. schools. Methods are applicable to many different curriculum models, including thematic teaching and the project approach. Features extensive examples of children's and teachers' work. At the end of the book is the Mail Project, complete documentation of one project in an urban prekindergarten program. This book is also available in Chinese and Korean. Click here to request information on how to obtain these translations




This Book is for Parents and Grandparents!!! "Teaching Your Child To Love Learning: A Guide to Projects at Home"
The "project approach" has long been a tremendous tool for educators working with young children. This is not an activity book but a book about doing in-depth investigations about topics that interest your child and you. The project approach stimulates your child's curiosity, shows the advantages of learning academic skills such as reading, writing and math and helps you build a strong relationship with your child as you share the adventure of learning together. In this book, we have adapted the approach to show parents, grandparents and other caregivers how to do meaningful and exciting projects at home. Featuring many photos of children doing project work this book thoroughly explains the benefits to both you and your child of doing projects together. Ideas are given for transforming your home into a place to learn including guidance for collecting and storing materials, making time for projects, and documenting your child's work. Seven complete examples of at-home projects are shared. Chapters also show you how to coach your child to build skills for reading and writing, mathematical development, scientific thinking, and more. Direction is also provided for adapting the project approach for use in family child care centers, home schooling, and gifted education.
Click here to order Teaching Your Child to Love Learning.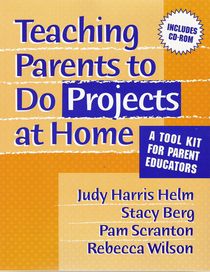 Tool Kit for Parent Educators has everything you need to teach parents how to do projects at home!
This exciting new took kit will help you to teach parents and other caregivers how to use the project approach at home. A companion to Teaching Your Child to Love Learning: A Guide to Doing Projects at Home(below) this book with included CD-ROM provides everything needed to conduct a series of parent workshops or for use by home visitors or family literacy teachers.

The Tool Kit book provides:
• Sample agenda for workshops.
• Task sheets for activities.
• Handouts for participants.
• Notes for Featured PowerPoint Presentations on the CD
• Adaptations for specific populations.
• Spanish version of handouts
• A "Planning Journal" in Spanish & English

The CD-ROM can be run on any PC. It is not necessary to have PowerPoint software to use it. The CD contains:
• PowerPoint Presentations on the phases of a project
• PowerPoint Presentations on how to topics
• PowerPoint Presentations of the featured projects in the companion book to enable facilitators to share the projects in greater depth.
• PowerPoint Presentations on additional family projects from diverse settings.
PowerPoint Presentations may also be printed as transparencies and used on an overhead, or printed and put into notebooks to share informally with parents. Click here to order Teaching Parents to Do Projects at Home

The Project Approach Catalogs
There are four project catalogs written to accompany An Evening of Sharing events at the National Association for the Education of Young Children annual conferences. Project catalogs provide a wealth of advice on how to do projects by practitioners, ERIC searches on research related to project work, and descriptions of each project on display at the event that year. The project catalogs are a good way to learn about a variety of topics and how they might progress in classrooms for children ages toddler through third grade. As these catalogs sell out, they are placed online for public access. The Project Approach Catalogs are available on the website of the Early Childhood and Parenting Collaborative at the University of Illinois at Urbana-Champaign or may be ordered by phone 217/333-1386 or 877/275-3227 Fax: 217/244-7732
---
| Project Approach Resources | Reggio Emilia Resources | Early Childhood Education | Books by Judy Harris Helm | Resources on Standards Early Childhood | Assessment Materials | Resources Toddlers | Documenting Children's Learning | Windows Translations | Young Investigators Translations |
---
| Workshops Keynotes | Books Resources | Consultation Services | Great Links |
---
| Return Home | Our Philosophy | What's New | Services Resources | Contact Us | Download Page |